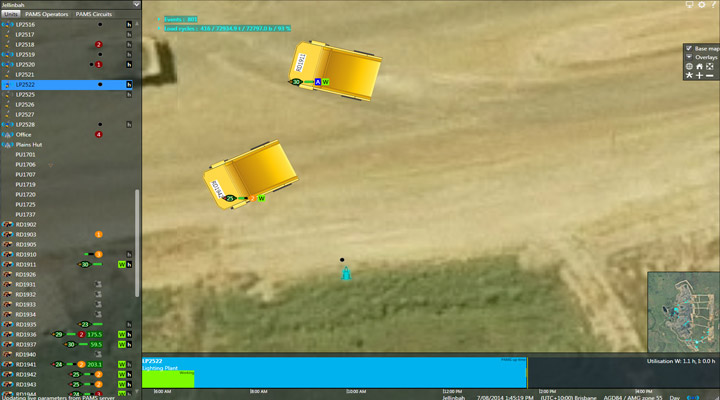 WHAT WE'VE BEEN UP TO:
A current partnership with Jellinbah Mines has yielded great success. A site wide review of current practices identified significant cost savings would be achieved by implementing iVolve's Plant Manager for lighting plants at Jellinbah Mine.
The operation and maintenance of lighting plants is a costly, labour-intensive activity. Jellinbah Mine identified this as an area where technology may boost productivity.
Jellinbah worked in conjunction with iVolve to deploy Plant Manager to the site's 22 lighting plants. The system simply bolts on to existing plant equipment to add location tracking, system monitoring, automatic start/stop and remote control capabilities.
Jellinbah Mine maintenance engineer Adrian Schmidt said that the installation of iVolve's Plant Manager has boosted efficiency.
"Our guys know the state of every lighting plant just by looking at the iVolve software. They can then see exactly where each one is to be able to address issues quickly," Adrian said.
Receiving real-time data from the lighting plants enables immediate responses for time-sensitive issues.  Maintenance personnel have immediate knowledge of which lighting plants require maintenance and their location at any given time.
Physically attending lighting plants in the field for start/stop or fault finding is time consuming. Start/Stop of lighting plants can take up to four man hours per day.
Jellinbah Mine Maintenance Superintendent Heath Sanders said that the costs of running the lighting plants at Jellinbah Mine have significantly reduced once Plant Manager was installed.
"Fuel and labour costs represent a high proportion of our overall site costs. By making our operations run more efficiently with the implementation of leading edge technology by iVolve, we've been able to increase efficiency and generate long term cost savings," Heath said.
Jellinbah have worked closely with iVolve since 2011 on the site-wide deployment of the full iVolve FMS solution for productivity improvement, cost reduction and fleet interaction risk minimisation. Deployment of the Plant Manager solution alone has dramatically cut costs and boosted productivity.
For daily updates, follow iVolve on Twitter.