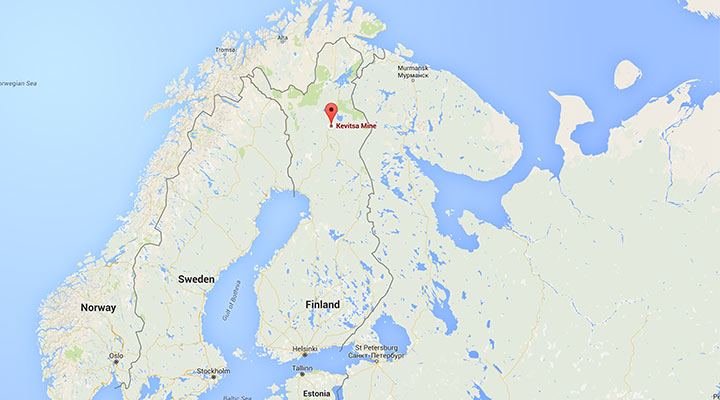 DID YOU KNOW: that First Quantum Minerals' (FQM) open pit mine at Kevitsa, in far northern Finland is the northernmost site with which iVolve operates in the world? Kevitsa is a source of nickel-copper platinum group elements. The mine is 142km north-northeast of Rovaniemi – a small city of about 60,000 – which is the capital of Finland's Lapland province; the average winter low is -14°C. This location places the Kevitsa mine above the Arctic Circle.
CHALLENGES AND SOLUTIONS:
FQM decided to not employ a manual reporting system.  The goal was an automated reporting system for production and real-time machine health data that would operate reliably in Arctic conditions with minimal operator input.
A number of unique technical challenges were confronted during the course of the project.  The system was designed to work reliably at extremely low temperatures, and was optimised for remote support from iVolve's Brisbane office.  The user interfaces were also internationalised for the Finnish personnel.
iVolve proceeded with full deployment at the mine site with remote support provided by iVolve's engineering team in Brisbane.  The solution consisted of the PAMS Production, Health, Operator and Pre-Start modules along with some customisation to meet the site's unique needs.
Mine Foreman David Haataja said that iVolve has been a great asset at Kevitsa.
"I use the iVolve system on a daily basis to track performance and see if there are any problems during the shift.  We've been dealing with iVolve for the last 12 months.  They are quick to respond to any problems we have and are very professional," he said.
FUTURE
Based on the success of the initial deployment, the core system is now being added to nine more machines and additional modules and functionalities are now being installed across the fleet:
Tyre manager
Load Planner
Speed Monitor
The integration of the iVolve PAMS Production meant that average payloads increased, with a decrease in overloads and underloads. Kevitsa is expanding operations after just 12 months, due in part to the success of iVolve's involvement onsite.
Join in the conversation by following iVolve on Twitter and use the hashtag #ivolve